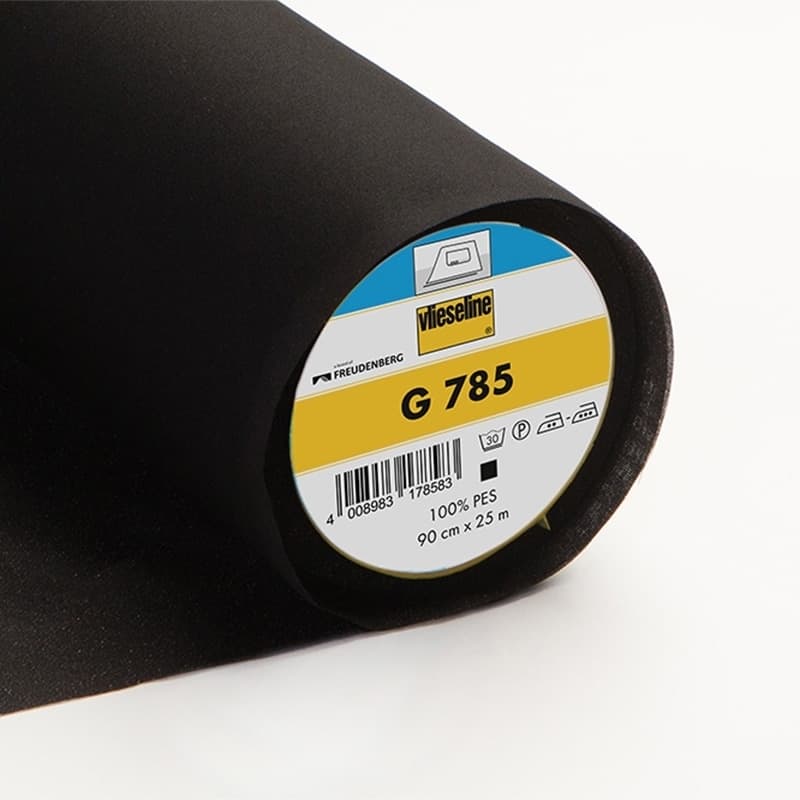 Vlieseline G785 - Black x 10 cm
For fusible interfacing or interlining, Atelier Brunette recommends Vlieseline, the company that offers products that are guaranteed in quality and durability. Vlieseline interlinings provide shape, reinforcement, and support and they are perfectly adapted to Atelier Brunette fabrics.
Vlieseline G785 is a light-weight woven interlining made of synthetic fibres to use when sewing small parts on blouses, dresses and front parts of elastic jackets.  It has excellent adhesion with a two-way stretch. It will remain strong with a flexible feel. 
Price displayed for a coupon of 10 cm x 90 cm width.
For example, if you order 0.50 meters,we will cut a coupon of 50 cm x 90 cm width. You will receive your Vlieseline in one piece.
CHARACTERISTICS
Colour: black
Use: lightweight and/or stretchy fabrics, viscose, acetate, cupro & coated fabrics
Care Instructions: can be washed at up to 30°C
Width: 90 cm
How to use Vlieseline G785
- The G785 woven interlining must always be cut in a lengthwise direction following the grain of the fabric. 
- Place the rough or coated side of interlining on the wrong side of the fabric. Cover with a damp cloth and press (cotton setting) for approximately 12 seconds without moving the iron. 
- Allow the pieces to cool flat for 30 minutes.