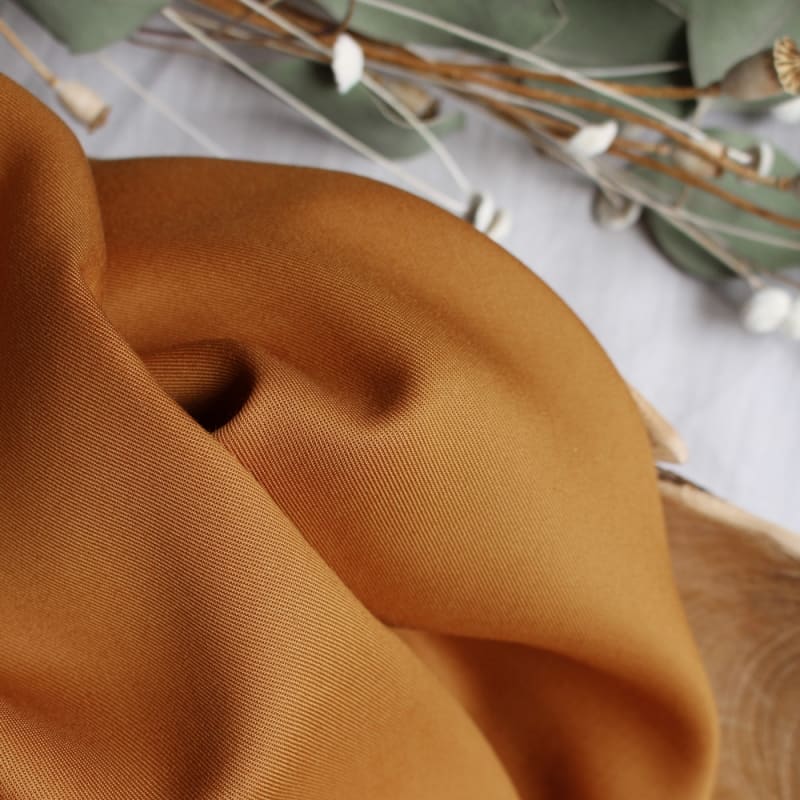 Display all pictures
Tencel Ochre Fabric
The Atelier Brunette Tencel fabrics are available in a variety of Atelier Brunette's contemporary flagship colors. The tencel fabrics are designed to mix and match with the entire Atelier Brunette fabric collection to create harmonious outfits.
As an essential part of the modern wardrobe, Tencel is valued for its many positive qualities. Resistant and breathable, it is particularly appreciated for being an eco-friendly textile with low impact on the environment. The colors and texture of the Tencel fabrics highlight the softness and thickness of this fabric. This is the ideal fabric to create your wardrobe essentials including jackets, trench coats, jumpsuits and trousers.
Find inspiration and share your creations: #AtelierBrunette #TencelOchre
Price is displayed for a coupon of 10cm x 150cm of width.
For example, if you order for example 0.50 meters, we will cut a coupon of 50 cm by 150 cm width. You will receive your fabric in one piece.
Designed in France // Made in India // Oeko-Tex Standard 100
COMPOSITION & MAINTENANCE
Composition: 100% Tencel from sustainably managed forests certified FSC and/or PEFC
Weight: 220 g/m²
Color: Ochre - also available in other Atelier Brunette colors
Width: 150 cm
Washing / Care: Wash separately at 30°C maximum, delicate 800 rpm spin cycle, do not tumble dry or steam iron wash
Discover the new buttons that we have specially selected for these Tencel Atelier Brunette.